Music in the Afternoon – May 2014

Christ Church was once again filled 'With a Voice of Singing' as the South Pennine Singers opened their 'Music in the Afternoon for Christian Aid' concert held on May 11th.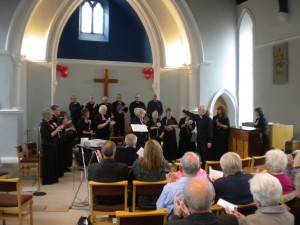 This was a welcome return visit for the 18 strong chamber choir from East Lancs, who under the direction of Geoff Balson and co-director Sue Temperley, delighted the appreciative audience with their wide ranging and varied program of choral items in an afternoon of music for all tastes.
Following a strong unison alternating with the joyful harmonies of Martin Shaw's stirring opening anthem, the first half flowed with a variety of polyphonic styles spanning four centuries. These ranged from an expressive rendition of the Spiritual 'My Lord, What a Morning' and a well articulated Thomas Morley Madrigal, 'Now is the Month of Maying' ; through to Geoff's skilful arrangement of the contemporary John David song, 'You are the New Day'.
Ably accompanied by Valerie Shoesmith, several soloists also performed. Duettists Heather Nicholas and Robert Taylor sang 'The Colour of My Life from Barnum' whilst soprano Andrea Goffee sang a thoughtful rendition of 'Pie Jesu' from the Faure Requiem, followed by tenor Peter Yates, who, along with the singers , performed the Agnus Dei. Andrea would also delight with solos in Bob Chilcott's 'Be Thou My Vision' and Ivor Novello's 'Waltz of My Heart'
Whilst the singers took a short break, Rev Ray Borg, Minister of Christ Church, led a thought provoking reflection on the work of Christian Aid and the need for giving, acting and praying in order to support their ongoing projects at home and overseas.
The second half opened with 'Three Hungarian Folk Songs' by Matyas Seiber. These traditional songs from the choral repertoire, demonstrated the singers' competent vocal abilities in rhythmic precision, clear diction and well controlled dynamics.
These were followed by two contrasting performances. Firstly of the lively David Willcocks' arrangement of 'Lord of the Dance' and then the emotive plantation song ' Curly-Headed Babby.
Evelyn Fawcett, who introduced the items in her own inimitable way, gave a comic performance of the Gracie Fields solo, 'I've Never Cried So Much in All My Life', which did serve as a light hearted prelude to a very moving section of a presentation of World War 1 songs and poems reminding us that 2014 is the Centenary of the start of the Great War.
The audience, moved by this thoughful tribute, willingly accepted the invitation to join in with songs from that era. The program closed with another arrangement by Geoff, of the 'Irish Blessing' by John Rutter; and was followed by refreshments provided by Pam Cliff and her team.
Proceeds from the concert ticket sales and other donations amounted to over £597.
Edition 8 of this popular concert series will be held on Sunday September 28th and will feature 'Continental Brass', a new Preston based brass quartet directed by Matt Balson. All proceeds will be supporting the ongoing work of the Methodist District in Sierra Leone.
Carol Rose/Jason McMahon