Music in the Afternoon for Christian Aid 2017

The 13th edition of the 'Music in the Afternoon' series held at Christ Church on May 14th saw the first visit to Longridge of Preston Flute Group. They are an enthusiastic ensemble of around 20 members, who meet fortnightly on Fridays in Woodplumpton and whose aim, inspired by the late local music teacher Mike Walder, is to promote all aspects of flute playing. Their repertoire demonstrated the wide range of the instruments in the flute family, from the highest, the piccolo, to that of the lowest, the giant contrabass flute.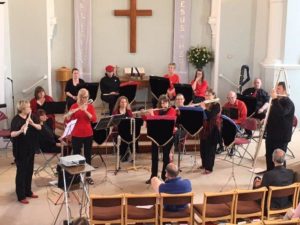 Skilful ensemble playing was evident from the start with the opening three movements of 'Animal Crackers'. Musical Director, Rob Rainford then conducted the group in an engaging arrangement of 'Eleanor Rigby'. Rob went on to demonstrate his expertise at arranging by introducing all the sounds of the various flutes in an amusing performance of 'When The Saints meet the Flutes'.
The second half opened with Liz Sharma's 'Water Birds' in three movements, which provided some exquisite sounds, as did the popular Mascagni Interlude which followed.
A very special moment was shared when Hilary Ashton played solo flute in a smaller ensemble performing a beautiful rendition of her late father, Ernest Tomlinson's piece, Chadkirk Idyll.
The enjoyable afternoon concluded with 'Appalachian Suite' with four arrangements of American traditional melodies by Kelly Via.
During their well-earned break, Henry Rose and Jason McMahon led a reflection on the work of Christian Aid on the 60th Anniversary of Christian Aid Week. Also, Claire Tuffin highlighted her involvement with'60 Million Trebles', an international blanket making project for refugees.
The concert raised £430 along with an awareness of the ongoing and much needed work amongst people in need both here and overseas.
Carol Rose