Music in the Afternoon for Christian Aid 2016

Held on May 22nd the occasion saw a welcome return of the South Pennine Singers under the direction of Geoff Balson and Sue Temperley. Ably accompanied by Valerie Shoesmith, the choir did not disappoint and led an afternoon of choral and solo performances which delighted the appreciative audience.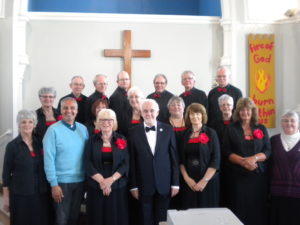 Choral items, both accompanied and unaccompanied, ranged from Haydn and Finzi to Bacharach, with stops along the way of folk song arrangements and songs from the shows. The men's section gave their own unique rendition of 'There is nothing like a dame' from South Pacific, whilst the ladies led a gentle arrangement of 'Dona Nobis  Pacem', a Song for Peace.  Solo vocal items included Andrea Goffee's endearing 'If I loved you' from Carousel, whilst Evelyn Fawcett, as well as being the amusing compere gave a delightful comic performance of 'A Singlet for Cecil' – whilst knitting the garment! By way of a contrast, a solo 'Trumpet Tune' was performed by David Parkins. The concert programme showed the singers' versatility and technical ability, especially in the testing articulation of 'Cy Cole's 'Rhythm of Life' and the full choral sound of Haydn's' Insanae et Vanae Curae.'
While the choir took a well-earned breather, John Spencer, Carol Rose and Jason McMahon led a thought provoking reflection with images entitled 'In the Name of Christ' – words taken from the song of the same name, composed by Carol for the 50th anniversary of Christian Aid Week.
The programme ended with some community singing of 3 hymns concluding with 'How Great Thou Art' accompanied by piano and organ in a rousing finale. Following a presentation to Geoff, acknowledging his new role of President of the South Pennine Singers, he then conducted a final piece, his own arrangement of the Irish Blessing.
More opportunities to support Christian Aid will be on Thursday June 2nd,  when Christ Church are hosting a Coffee Day at the Civic Hall.
Also, on Friday/Saturday July 22nd & 23rd, there will be a bucket collection event at Booths in Longridge, where volunteer helpers will be much appreciated.
Carol Rose