Music and Mission in the Afternoon September 2017

When you see such names as Rodgers and Hammerstein, Stephen Sondheim, Lerner and Lowe and Andrew Lloyd Webber in a concert programme, then you know that you are in for a treat. This was the situation on Sunday 24th September at Christ Church, Longridge.
A large audience gathered to hear music performed by a quartet of versatile singers and instrumentalists, combined with updates from Mission Partnerships in Papua New Guinea and Sierra Leone which the church has strongly supported for many years
The opening number based on the theme from 'Phantom of the Opera' really raised the roof, as the quartet, featuring Ian Williams (piano) Jason McMahon (clarinet) David Rose (percussion) and Carol Rose at the organ launched the afternoon. (Actually I was rather concerned as the roof may be needing repair.)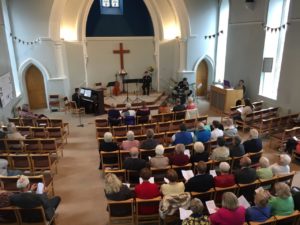 We stayed with Lloyd Webber for solo items from Carol and Jason. These were 'Tell me on a Sunday', a lesser-known song from this composer, and 'Gethsemane' from 'Jesus Christ Superstar'.
All proceeds from the concert, which totalled £504.50, supported the Mission Teams of the Lancashire District of the Methodist Church. During short breaks in the concert, we were privileged, on this occasion, to have our Chair of District, Rev Paul Davis, who shared on the work in Papua New Guinea. Similarly, we welcomed Judith Laycock and Becca Ainsworth, who had been working in the Nixon Memorial Hospital in Sierra Leone. The congregation here in Longridge, has established close links through the constant work of member John Spencer.
'Musical Moments' resumed with a rousing playing of the 'Wedding Processional' from 'The Sound of Music', followed by the lesser well-known repertoire of Stephen Sondheim's 'Giants in the Sky' and 'Stay with Me' from 'Into the Woods'.
The ever popular 'Tonight' from West Side Story was well received, whilst the medley from 'My Fair Lady' had the audience singing along. As we approached the end of the concert, music from Willy Russell's 'Blood Brothers' was sensitively performed. Personally, I think 'Tell me it's not True' is one of the most beautiful show songs of all time.
A very successful concert and all participants, (who between them, sang, played piano, organ, cello and percussion) should be congratulated for a job well done.
Thanks to Carol Rose, who devised, directed, played and sang!
Geoff  Balson