Moments of Meditation

Friday lunchtime in Longridge seems an unlikely time and place for a concert. Even so, an appreciative audience gathered at Christ Church on Berry Lane to hear a performance by two fine young musicians, both of whom are currently studying music at Manchester University.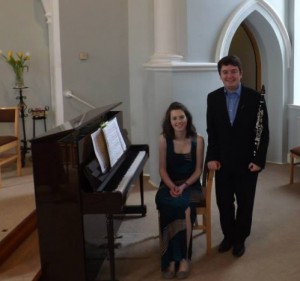 Chloe Knibbs is studying composition and singing, as well as being an accomplished pianist. In the future, she hopes to be involved in music in education.
Jason McMahon also specialises in composition as well as being an outstanding performer on the clarinet. He recently has had a number of his compositions published.
Together they presented a well-chosen programme full of contrasts and styles. They opened with a sonata for clarinet and piano by Stanford, full of pastoral warmth, demonstration a close togetherness and understanding in their playing which held throughout their full programme.
Chloe has a strong and rich vocal sound, used to good effect in the duet 'Strange Fits of Passion' and in their finale – Three Vocalises by Vaughan Williams. She also sang a piece for unaccompanied voice composed by Jason with excellent intonation and control.
In the piece 'Caoine' by Edward Watson, Jason demonstrated the versatility of the clarinet, producing sounds ranging from a deep rasping bass through to sweet high notes – all under complete control.
It was indeed a great pleasure to be in the audience at this event, presented by two young musicians who obviously enjoy their music-making to the full.
Donations received, amounting to £212.02, are to be split between Macmillan Cancer Care and the Cystic Fibrosis Trust.
Concerts on Friday lunchtimes in Longridge? It sounds like a good idea!
Geoff Balson